Innovative coverings for your outdoor paving
Pave and Go is the revolutionary, convenient installation and paving system
Uses
GARDENS AND ROOFTOP GARDENS
Advantages
FAST
5 times faster in laying than other floors thanks to the patented interlocking system.
IMMEDIATELY READY FOR LOADS AND TRAFFIC
The flooring is ready for loads and traffic immediately after laying since there is no need to wait for the surface to dry.
SIMPLE AND ECONOMICAL INSTALLATION
Economical installation thanks to the practical and innovative snap-in system with integrated joints.
CLEAN
Installation without adhesives or grouting means considerably less dirt than with floor screed, bonding slurries, adhesives, etc.
DIRT-RESISTENT
Emilgrpup porcelain stonewares plates are impervious to soiling of all kinds. This especially includes liquids such as oil, grease, etc.
EASY TO MAINTAIN AND CLEAN
Any kind of cleaning agents can be used.
REUSABLE
Thanks to installation without adhesives, the modules and elements can be used multiple times.
REPLEACEABLE
The modules can be easily replaced in case of repairs or modifications.
SLIP RESISTANCE
Emilgroup porcelain stonewares are made with a slip resistance suitable for the fields of application (R9 / R10 indoor)
VERSATILE
4 color shades available in 60x60 cm size, 20 mm thichness
THERMAL SHOCK RESISTANT
The PaveAndGo system is extremely resistant to frost and de-icing salt.
WEATHER ELEMENTS RESISTANT
The Emilgroup 20 mm slabs are highly resistant to prolonged exposure to sunlight, heatwaves and other extreme weather elements.
THE REVOLUTION IN FLOORING INSTALLATION
THANKS TO THE PATENTED INTERLOCKING SYSTEM OF PAVE AND GO, THE NEW FLOOR CAN BE LAID AT A SPEED OF 25 M2 PER PERSON AND HOUR. YOUR NEW OUTDOOR FLOOR IS IMMEDIATELY READY FOR LOADS JUST AFTER THE INSTALLATION.
INSTALLATION METHOD - SOIL SUBSTRATE*
Step 1:
Ensure firm bordering of the installation area. Angularity is imperative: 90°. Lay and compact the base course. Laying of fine gravel e.g. particle size 2-5 mm.
Step 2:
Levelling and screeding of the fine gravel. Keep approx. 2 cm below the level of the finished upper edge.
Step 3:
Start installing the slabs.Hold the slabs at the corners to avoid displacing the fine gravel. Lay the slabs in an L shape and not in rows for an optimum joint pattern.
Step 4:
Check the locking of the slabs and correct if necessary. Check the angularity of the installed slabs using a try square. Correct if necessary using a hammering block.
Step 5:
Now install the remaining slabs starting at the right angle into the installation area. Check the locking of the click system slab for slab and correct if necessary immediately.
Step 6:
Any trimming of the slabs is performed using a fine stoneware diamond cutting disc or wet cutter with extraction. Cutting of the PUR using a jigsaw with laminate blade. Compaction of the installed slabs using a vibrating plate with a maximum weight of 60 kg and a 2-cm thick rubber pad.
Step 7:
The installed surface must be cleaned prior to compaction to prevent damage to the surface of the slabs.
Step 8:
If required, the all-round edge expansion joints (at least 8 mm) can be filled with a suitable silicone. Ensure two-point adhesion in this case. Silicone joints generally require maintenance and must be checked and replaced at regular intervals.
Step 9:
Handover of the installed slabs after final cleaning. Only use cleaning agents suitable for fine stoneware tiles.
INSTALLATION METHODS - SECURELY ANCHORED, SOLID EXISTING PAVING
Step 1: APPLICATION CONTEXT
The system can be installed on existing pavings provided they are sufficiently level and have a satisfactory drainage slope.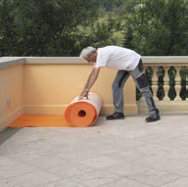 Step 2: SUBSTRATE PREPARATION
Apply a drainage substrate layer.
Step 3: INSTALLATION OF THE PAVING
A / Arrange the modules starting from the most visible corner. B / Position the slabs in rows and not at random.
Step 4: CUTTING
If the installation surface is narrower than the system module, slabs can be cut using ordinary commercially available cutting tools such as angle grinders.
Video
Give your chosen design to your interlocking outdoor paving